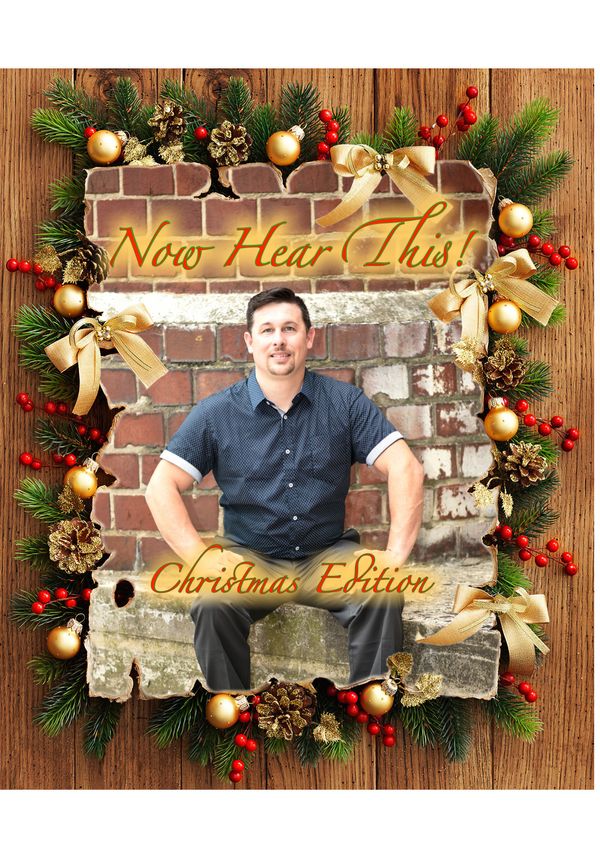 Merry Christmas
from
Meadow Lane
---
Jingle bells, decking the halls, dreaming of a white Christmas, while chestnuts are roasting on an open fire. Ahh the sights, sounds smells, and the feeling of Christmas. Some of my fondest childhood memories and even adult ones too are filled with the memories of past Christmases. I can remember when we used to gather every Christmas Eve at Grandma & Grandpa Epperson's house. I remember being soooo excited. Excited to see family I hadn't seen in a while, excited about what gifts I may receive (all you were this way too), but one of the most fond memories I have of that time was being excited to eat some of Grandma's special biscuits that she only made that time of year. I've never tasted any like them. I can still feel the texture as the perfectly caramelized crust passed across my lips, followed by the buttery deliciousness that was rolled into that soft delectable miracle of dough. Wow I loved those.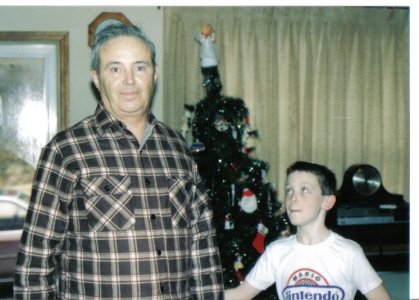 (My brother Adam with my Papaw Garland)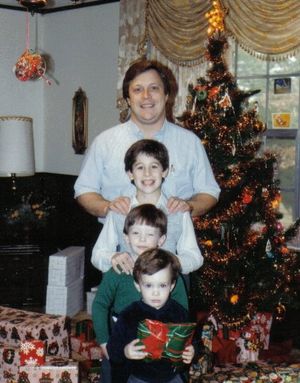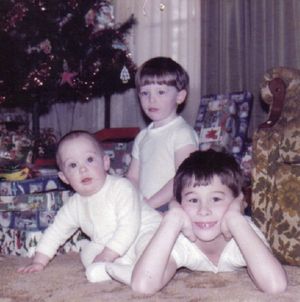 Then Christmas Eve was filled with fun as we headed home. I can remember singing Christmas carols all the way home. And when we got home, it was soon to bed. Santa was on his way of course and he wouldn't stop at our house until we were asleep. Funny thing is; any other evening of the year, my brothers slept in their room, and I slept in mine. We never thought of each other as "cool enough' to have a sleep over in each other's rooms any other day of the year, but for some reason, Christmas changed things. That was the one night of the year we could count on being together and excited about that fact.
I can remember not being able to sleep a wink. I remember after we could tell when Santa had finished his work because the banging and sliding and shuffling had concluded. Then, and only then we would slowly and ever so quietly creep open the door to our room and lie in the threshold peering down the hallway towards the den where the Christmas tree was. We would whisper and wonder and speculate what was waiting just down the hallway. It was a time in my life that is a treasure that I will never forget. Oh the innocence of youthful hopes and dreams. Being so excited that sleep was not possible and tomorrow seemed so distant. Just an hour was an eternity, but after a set of eternities, the time would finally come; the time to go wake Mom & Dad. Now 5:00 any other day of the year only shows up on the clock once a day, but for some reason Christmas morning had a 5:00 am in addition to the 5:00 pm so at 5:00 am we figured since Santa had done all the work last night, Mom & Dad should be just as excited to get up. And they usually were.
Christmas day was always such a joy for us as children. Mom, Dad, and Santa always found a way to provide the most awesome experience any child could ever have. From the Christmas morning when Santa brought the Little Tikes ride on train set, to the one where he brought Adam and me the greatest BMX bikes ever!! We never had a bad Christmas. Thank you Mom & Dad for so many wonderful memories of Christmas.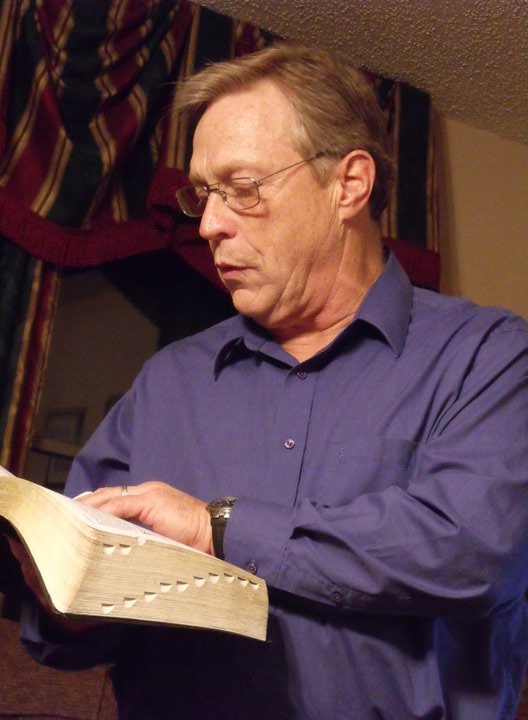 But that's not all the Christmas we received. Before any gifts were exchanged at any of these gatherings, we were soaked in the word of God. The Christmas story was read aloud and there was absolutely no question as to why we were celebrating and exchanging gifts. The old, old story was read and we all listened intently. I have watched as many years my Dad has read that story and the tears would flow down his cheeks. Many times he has had to stop to regain his composure in order to finish the story. It is precious to me and all my family and I cannot imagine a single Christmas where we wouldn't uphold this timeless tradition. As a matter of fact, I believe most of us look forward to this more than any other aspect of Christmas. 
Keeping our mind on Jesus at this time of year is what I have always been taught and I am so thankful to have had this experience growing up. I have tried to keep the same tradition with my little family. Many times I have felt like a complete failure. I could never live up to all the wonderful, unbelievable and inspirational moments my parents provided for me and my brothers, yet I still strive to do the same for my children.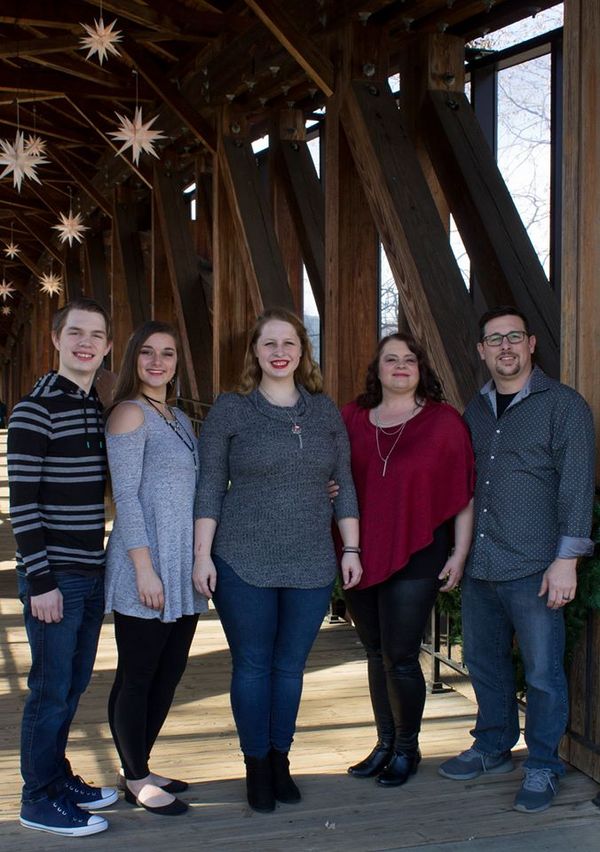 I have been richly and abundantly blessed with a wonderful family of my own. I have a wife that sticks with me through thick and thin (mostly thin). I have two beautiful, healthy children that are just the apple of my eye. They all make me be proud to be alive every day. God has richly blessed me.
How about you? Are your memories of Christmas as joyous? Are they filled with more wonderful stories of your grandparents? Do you remember your favorite Christmas present or your favorite Christmas treat? Can you remember your family sharing the Christmas story before the gifts were exchanged? If not, fear not! Now you know what the true meaning of Christmas is. And that is just this:
Luke 2:1-20 King James Version (KJV) 
And it came to pass in those days, that there went out a decree from Caesar Augustus that all the world should be taxed. (And this taxing was first made when Cyrenius was governor of Syria.) And all went to be taxed, every one into his own city. And Joseph also went up from Galilee, out of the city of Nazareth, into Judaea, unto the city of David, which is called Bethlehem; (because he was of the house and lineage of David:) To be taxed with Mary his espoused wife, being great with child. And so it was, that, while they were there, the days were accomplished that she should be delivered. And she brought forth her firstborn son, and wrapped him in swaddling clothes, and laid him in a manger; because there was no room for them in the inn. And there were in the same country shepherds abiding in the field, keeping watch over their flock by night. And, lo, the angel of the Lord came upon them, and the glory of the Lord shone round about them: and they were sore afraid. And the angel said unto them, Fear not: for, behold, I bring you good tidings of great joy, which shall be to all people. For unto you is born this day in the city of David a Saviour, which is Christ the Lord. And this shall be a sign unto you; Ye shall find the babe wrapped in swaddling clothes, lying in a manger. And suddenly there was with the angel a multitude of the heavenly host praising God, and saying, Glory to God in the highest, and on earth peace, good will toward men. And it came to pass, as the angels were gone away from them into heaven, the shepherds said one to another, Let us now go even unto Bethlehem, and see this thing which is come to pass, which the Lord hath made known unto us. And they came with haste, and found Mary, and Joseph, and the babe lying in a manger. And when they had seen it, they made known abroad the saying which was told them concerning this child. And all they that heard it wondered at those things which were told them by the shepherds. But Mary kept all these things, and pondered them in her heart. And the shepherds returned, glorifying and praising God for all the things that they had heard and seen, as it was told unto them.
---
Keep Jesus in Your Christmas, or Else it Won't be Much
He's the reason for the season, Not the gifts, the toys, and such
Without Him in your Christmas, How empty it will be
Put Jesus in your Christmas, What a Christmas you will see
Yet another wonderful treasure my Dad provided for his family. He wrote this song many years ago and it was recorded by the Singing Echoes about 10 years ago. It is one of my favorite Christmas songs. It is the culmination of what our family has always held in their hearts during the Christmas season. It is what Christmas is about. Not the gifts, not the toys, not even the tasty biscuits Grandma makes. Without Him as a centerpiece in your Christmas, your Christmas will be empty and of no use. You see, when you allow Jesus to be the center of all the festivities, it finally has meaning. There is a purpose to all the madness that is carried out during all of the hustle and bustle of the season. With Him, Christmas not only has meaning, but all of your life will soon have meaning and purpose. All at once everything will make perfect sense, and you will be truly joyful this Christmas.
So let your Christmas be merry and bright. Keep Jesus in your Christmas and you will see a Christmas like never before. 
Have a Merry Christmas, from Meadow Lane, to your lane...
Christmas Blessings,
Jeremy Epperson
Meadow Lane
P.S. I so wish that I could have included some more photos from my grandparents at Christmas. I found one of my Papaw Garland with my brother, Adam, but alas I was unable to find any in digital format of the Epperson side. Maybe I can update with some of those later.
---
I welcome your comments below. Tell me about your favorite Christmas. Tell me what Christmas means to you. What is your favorite holiday treat? Most of all let's give all the praise to Jesus!